Custom
Education development
Create your own educational program, with the development of customized teaching materials. Whether you work within the agricultural sector or as a member of an educational establishment, preserving and expanding knowledge are essential in every organization. To aid in in the transfer of knowledge, Beanstalk helps building practical training- and educational programs.
From aimed studies to ongoing trainings, onboarding and train the trainer trajectories.
Practical manner
Education development in education
Informing students in the agricultural sector in an efficient and practical manner. That was the aim with which Beanstalk developed educational programs for establishments like University of applied sciences Inholland, The green world, CIV Groen (Het Centrum voor Innovatief Vakmanschap) and Lentiz Cursus & Consult.
Review
Beanstalk inspires participants by challenging them in practice. During the project "The Circular Greenhouse," for example, MBO and HBO students are working together to grow circular tomatoes. In addition, the All-Climate greenhouse hosts lettuce competitions, challenging students to develop their own growing methods.
Among other projects, Beanstalk developed and contributed to programs and courses such as:

Kasgroeit (LTO): Development of the sector related education "Horticulture".

Inholland Academy: Development of the training "Expert cultivational specialist".

MBO Lentiz (vocational level): Development of "Examined learning" an integral program to learn from a practical position.

University of applied sciences Inholland: Development of the flexible part-time educational study program "Horticulture & Agribusiness"

CIV Groen: Development of the online learning module "Remote growing" for both students and horticultural employees.

The green world: Involved as an assistant reader for the book "Optimizing an agricultural business" by Mathijs Ruhé.

Lentiz Cursus & Consult: Development of the course "Leadership".

Foundation EDU-Kas: Development of the EDU-kas and the accompanied curriculum for primary education.
Would you like to know more about one of these programs or courses? Feel free to contact us!
Learning effectively
Trainings
Learning effectively in a applicable teachings, that is our goal in the training programs we develop. By providing a unique learning experience, participants get to see and experience the results of their behavior, which helps them to store the information more easily. With our knowledge and experience of horticulture and our educational background, we effortlessly adjust our training to meet the needs of the participants.
We customize every training to the learning objectives of your organization. We offer trainings in organizational development, personal development and cultivational competence. For instance, we train employees in communicational skills, leadership skills, horticultural knowledge, the fundamental principles of crop cultivation and horticultural innovation. . Would you like to know what Beanstalk trainings can contribute to your organization? Feel free to contact us!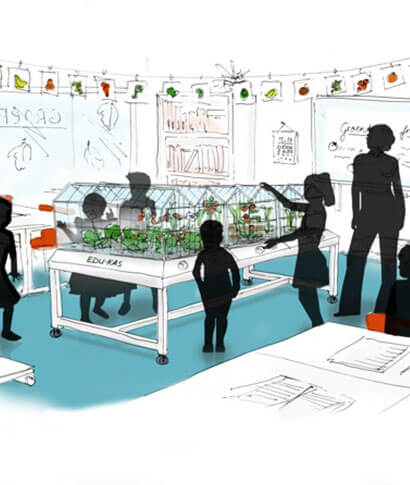 Seeing and experiencing the process
EDU-kas: targeted solution now implemented broadly

A real-world project that exemplifies our way of training and developing educational materials. While explaining the cultivational process to a group of students several years ago, it turned out that they needed a little more than a verbal explanation to understand the process. Students had to see and experience the process. To meet their desire, Sjoerd Nieboer developed a miniature greenhouse to display the cultivational process from start to finish.
It turned out to be a great success. Not only these students, but schools all over the world started to use these tiny greenhouses. We developed a curriculum that could be used alongside the, over 1,000, EDU-kas greenhouses that were built and sold at the time. Something that started as an idea to clarify growing processes, turned out to be a wide ranged educational formula that has been implemented throughout the Netherlands and abroad.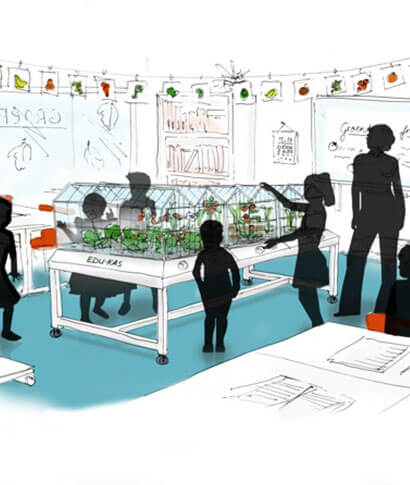 Customized education to preserve knowledge

Do you have a lot of experienced staff members within your company with valuable knowledge and experience? Make sure their knowledge won't get lost as retirements occur. Ask these employees to educate their colleagues or gather the information in an online educational module. Interested? Let's get together and explore the types of educational materials that could be developed for your company. Let's have a cup of coffee then!