Learning on the job
Coaching
Targeted development, individually or within teams. With customized and practical on the job coaching, we support you in defining, uncovering, and exploiting your talents. We help you to avoid potential pitfalls and develop effective (personal) leadership skills in a way that enhances your existing skills.
With our experience and knowledge in the agricultural sector, we are able to shadow you in your professional environment and see firsthand your areas of strength and opportunities for growth. We ask targeted questions and determine your learning objectives to create an efficient plan for rapid growth. This way we provide a win-win for both you and your company.
Learning Environment
Learning on the job
We believe that your workspace provides the best learning environment. Knowledge can be found within every organization; the challenge lies in the way we share and preserve this knowledge. The challenge is often in securing and transferring that knowledge. With insightfulness and creativity, Beanstalk trainers engage themselves to fully exploit and expand everyone's talents.
Our experience in, and awareness of your daily business practices and context, enables us to invision ourselves in your situation. This helps us to comprehend and effectively coach you to create learnings that complement your experiences. Our coaching is focused on the issues you face and your stated areas or skills where you desire to grow. Whether you encounter communicational problems, stagnation in greenhouse processes, difficulties with colleagues or entirely different situations, together we create a personal development plan to overcome and solve your challenges.
Review
When a grower communicates that there are SOME impairments on the product and processing shows an 80% reach, problems occur in both the processing and outlet. How can you prevent future problems in your way of communicating?
Coaching trajectory
Bring new value to your talents
Are you a young and ambitious agricultural professional, ready to take the next step? Benefit from this coaching trajectory to valorize your talents. Together, we determine who you are, examine your talents and sketch out your desired path for development and growth. We create an achievable approach based on your professional environment. Supported by our trainers and coaches, you will receive targeted assignments and receive coaching on any situation you stumble upon along the way.
During this trajectory you go through 5 phases of growth. We will seed, root, grow, bloom and harvest. From organizational development to cultivational knowledge and personal development, we support you in moving forward. To develop new leadership skills, become increasingly aware of your talents, your convictions, and your ability to apply yourself effectively by making the most of these talents.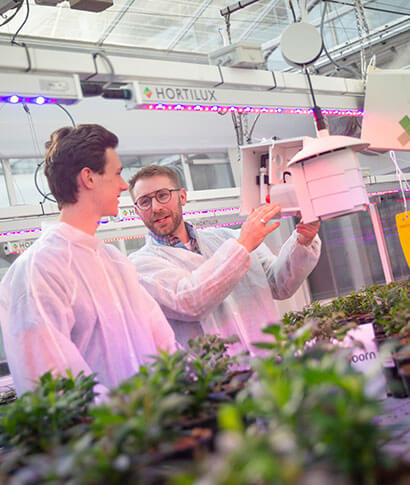 Customized trajectory
Coaching within teams
Learn from your colleagues while facing your own challenges. With the current employee shortage and the rapid technological developments within agriculture, it is increasingly important to maximize the use of talents, skills and knowledge already present in your company. Not just your own, but the talents of all your colleagues combined.
Would you like to combine your own development with discovering and utilizing the talents in your team? Then take advantage of team-based coaching. In a customized coach trajectory, we examine your team's current situation and learning challenges. We develop a pathway in which we refine existing talents and teach new skills.
We bring the talents of your colleagues together. Working towards self-learning teams who preserve and expand the knowledge within your organization. . Due to the practical hands-on approach of our coaching, you can immediately apply everything you learn directly in your company or team. Curious to know how? We look forward to telling you more about the possibilities!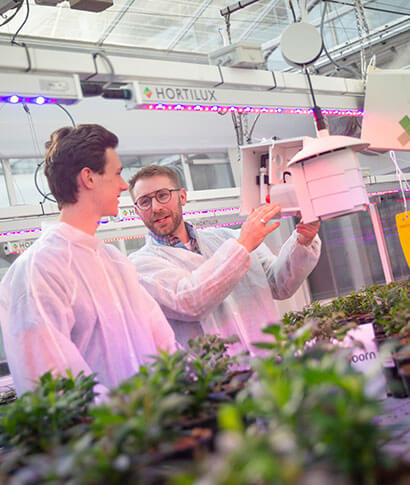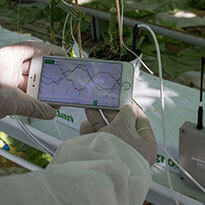 Start your coach trajectory
Do you want to explore your possibilities to maximize your talents? Do you want to embrace and apply your talents and improve your leadership skills? Or are you curious how to get the most out of your team? Feel free to contact us! Together we will design a coaching trajectory for personal growth and one that cultivates team improvements.